The ASN-301UAV seems to be a near-copy of the Israel Aerospace Industries (IAI) Harpy system that was purchased by China in the 1990s, according to foreign sources. The ASN-301 drone is a delta-wing aircraft with a pusher propeller that looks virtually identical to the Harpy.It is designed to fly into hostile airspace and loiter until it detects a radar, at which point it homes in on the target and destroys it.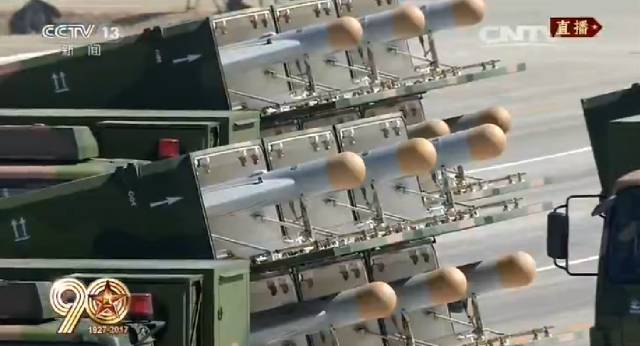 Developed by IAI in the early 90s, Harpy is the first UCAV which features a passive radar seeker and can be used as a long-range anti-radiation weapon to attack enemy radar stations. Its range is 500km, max speed 185km/hr, warhead 32kg. One Harpy UCAV launch vehicle can carry 18 box launchers.
Two new types of seeker with slightly different sizes have been identified, suggesting different homing
frequencies. However the launch vehicle now carries only 6 launchers.
Specifications
It listed the ASN-301 as having the same 135 kg weight as the Harpy, although at 2.5 m it is slightly shorter than the Israeli version (2.7 m), and has an endurance of four hours. It has a higher top speed (220 km/h versus 180 km/h for the Harpy), but its range is shorter (288 km versus 500 km).
The CATIC information stated that the ASN-301 targets radar frequencies in the 2-16 GHz range and its radar homing device has a search range of 25 km. The system can target up to eight pre-set radar targets. Its 7,000-fragment warhead has a proximity laser fuse with a destructive range of 20 m.
news
China Seeks to Snap Up Technology, Build Middle East ...
The Epoch Times-2018年11月6日
... a drone designed to seek out and destroy enemy radar systems, ... China unveiled its own anti-radar UAV, named the ASN-301, which bore
Israel and China Take a Leap Forward—but to Where?
Mosaic-2018年11月4日
The Harpy is a drone aircraft, with an impressive range of more than 300 ... the drones' ability to home in on Taiwan's radar system—and that Israel .... As an export item on the international market, the new ASN-301 will be
Meningkatnya Minat Tiongkok Investasi Teknologi dan ...
EraBaru EpochTimes-2018年10月31日
... oleh produsen senjata Israel, Rafael Advanced Defense Systems. ... bahwa ASN-301 Tiongkok, kendaraan udara tak berawak (UAV) anti
China's Growing Economic and Military Interests in Israel
The Epoch Times-2018年10月28日
Israeli magazine Israel Defense also reported that China's ASN-301, a mobile ... aerial vehicle (UAV) introduced in early 2017, was a near-copy of the Harpy drone, ... Upon detection, it will hone in and destroy the system.
Frontline Tech: How Could Loitering Munitions Change The ...
Forces Network-2018年8月13日
Israel now produces and exports many other such systems; one of the most ... China's come in several sizes, from the ASN-301 which looks like a virtual ... The ready availability of drone electronics means more countries are .
Blinding the Enemy: How the PRC Prepares for Radar ...
The Jamestown Foundation-2018年4月9日
PRC thinkers view anti-radiation missiles, drones, bombs, and ... as the main tools of trade in the substantive destruction of enemy radar systems. ... Bearing striking resemblance to the Israeli Harpy, the ASN-301 has a range
China Shows New Fighters, Missiles and Drones
Aviation International News-2017年8月2日
Reverse-engineered from the Israeli Aerospace Industries Harpy system acquired by China in the 1990s, the ASN-301 has an endurance
Video
China's anti-radiation UAV ASN-301 suicide-attack anti-missile system radar.

ASN 301 anti-radiation drone debuts! Known as sky Patrol